https://www.thedad.com/do-you-want-to-smell-deez-deez-what-deez-nutz-candles/
'Deez Nuts' Scented Candles Have a Surprisingly Pleasant Aroma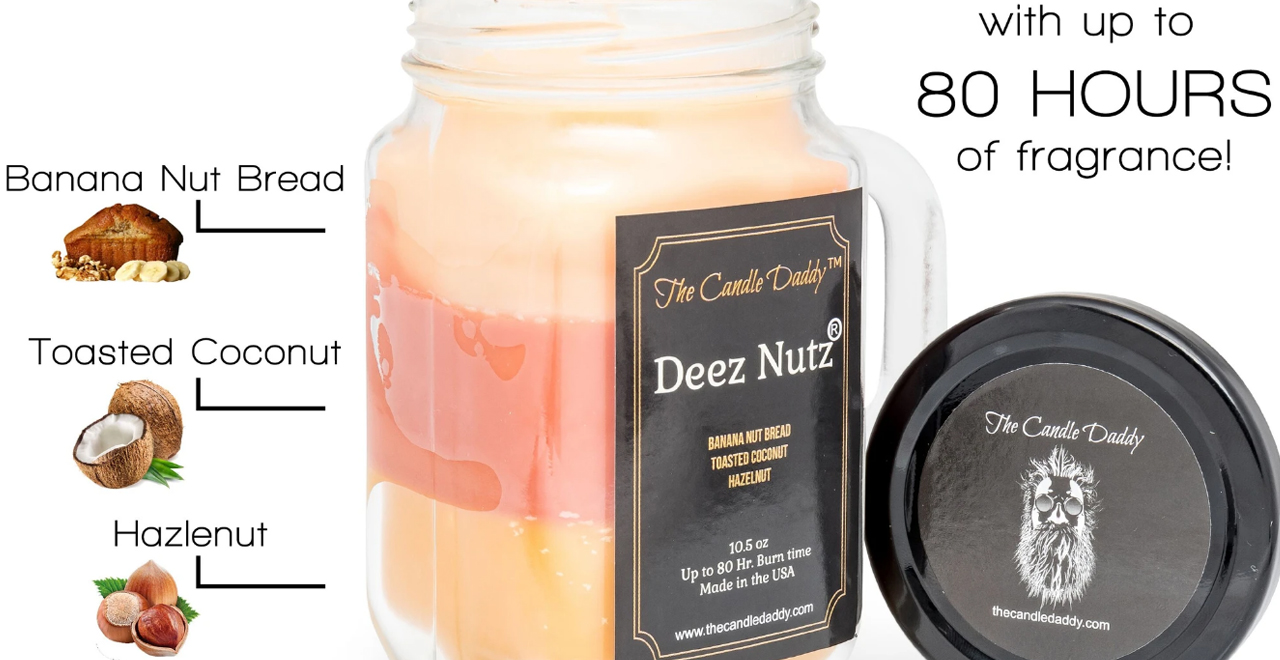 Do You Want to Smell Deez?
Deez What?
Look, nobody wants to smell your nuts. Let's just get that out of the way here and now. NOBODY. WANTS. TO. SMELL. YOUR. NUTS.
Thankfully, and despite the name of the product I'm about to introduce to you, that's not what's happening here.
It's from a company called Candy Daddy, and it's a new series of scents being marketed under the name "Deez Nutz." But don't worry, the name is merely a joke, Obviously. (Setting aside the fact that the universal disinterest in smelling your nuts is a fundamental and objective truth, I can't even imagine the logistical difficulties involved with capturing, replicating, and somehow transferring such a scent and into a candle.)
The name "Deez Nutz" is both a playful reference to the classic joke that may or may not have originated – but certainly was popularized – in a sketch on Dr. Dre's The Chronic album in 1992, and a reference to the scent of a new candle that Candle Daddy is peddling, a triple-layered candle that contains the scents of three separate nut flavors. Actual nuts, not testicles.
The Deez Nutz candle contains the delightful smell of banana nut bread, toasted coconut, and hazelnut, but do you really care what it smells like? Each of those scents is definitely enticing – I am so partial to the smell of coconut that it's a wonder I haven't accidentally poisoned myself by chugging my wife's conditioner – but let's be honest. If you're buying a Deez Nutz candle, you're not buying it for its scents, or its 80-hour burn time, you're buying it for the laughs.
Thankfully, it's a mere 20 bucks and would make a great gag gift. Unfortunately, Christmas has come and gone, but Valentine's Day is coming up. Head over to Amazon to pick yours up for $19.99
If I were you though, I would think long and hard before you tell your wife you bought her something that smells like "Deez Nutz," let alone let her unwrap the thing.